The goal of this example is to shift the salmon color of a bicolor narrow band image to a hue that is closer to H-alpha red. The same technique can be used to correct the salomon color common in H-alpha and color combinations from a DSLR or one shot color CCD.



Step 1 - Open the bicolor image and the Color | Hue-Saturation-Luminance Tool


The bicolor image was created by assigning red to H-alpha, the average of H-alpha and OIII to green, and OIII to blue or (R,G,B) = (Ha, 0.5Ha + 0.5OIII, OIII). This bicolor assignment and also mixing DSLR H-alpha and color leads to a salmon color for red instead of the correct H-alpha red.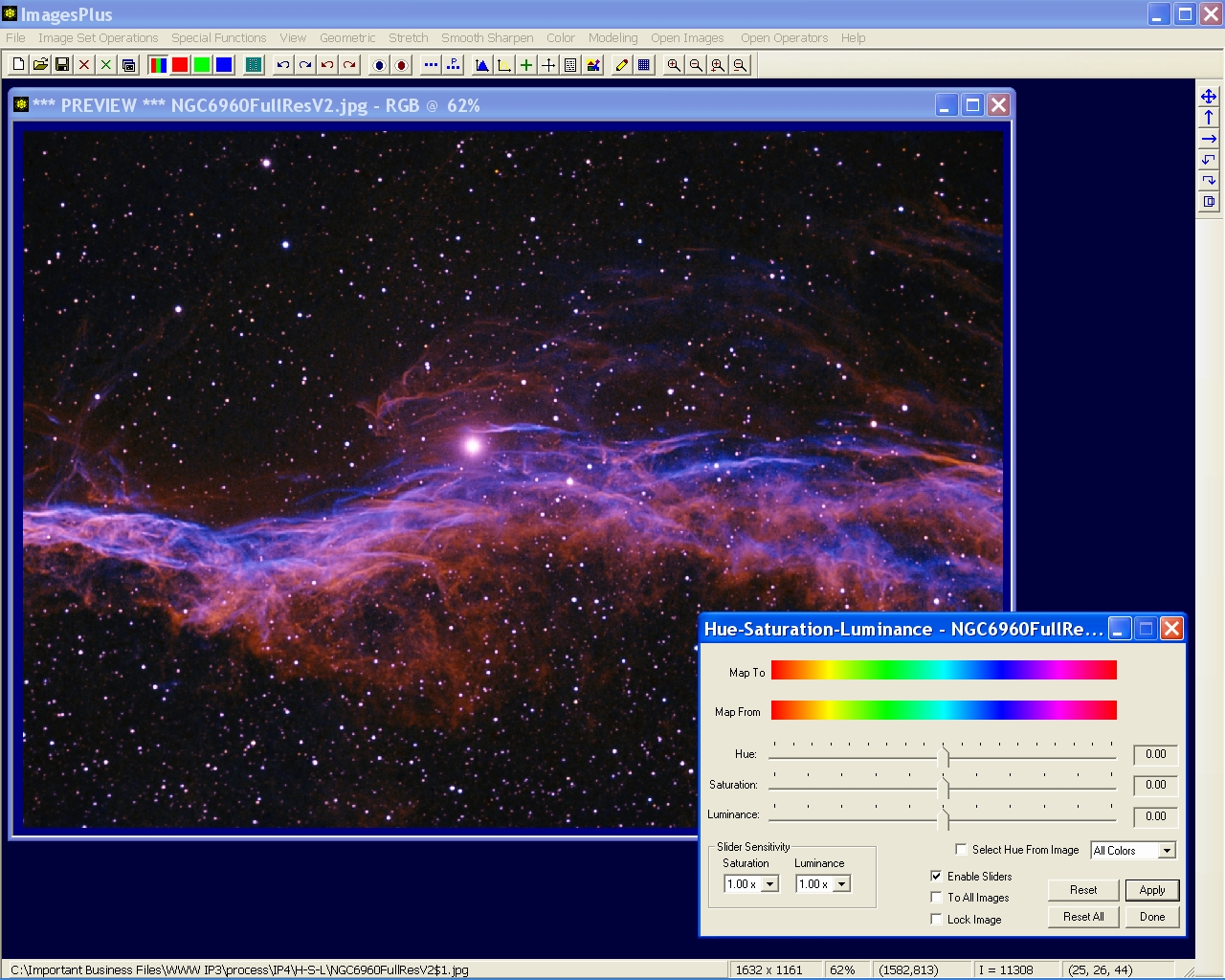 Step 2 - Select the Salmon Hue from the Image


Check the Select Hue From Image box on the Hue-Saturation-Luminance tool then left-click on the salmon hue in the image to set the hue and feather triangles.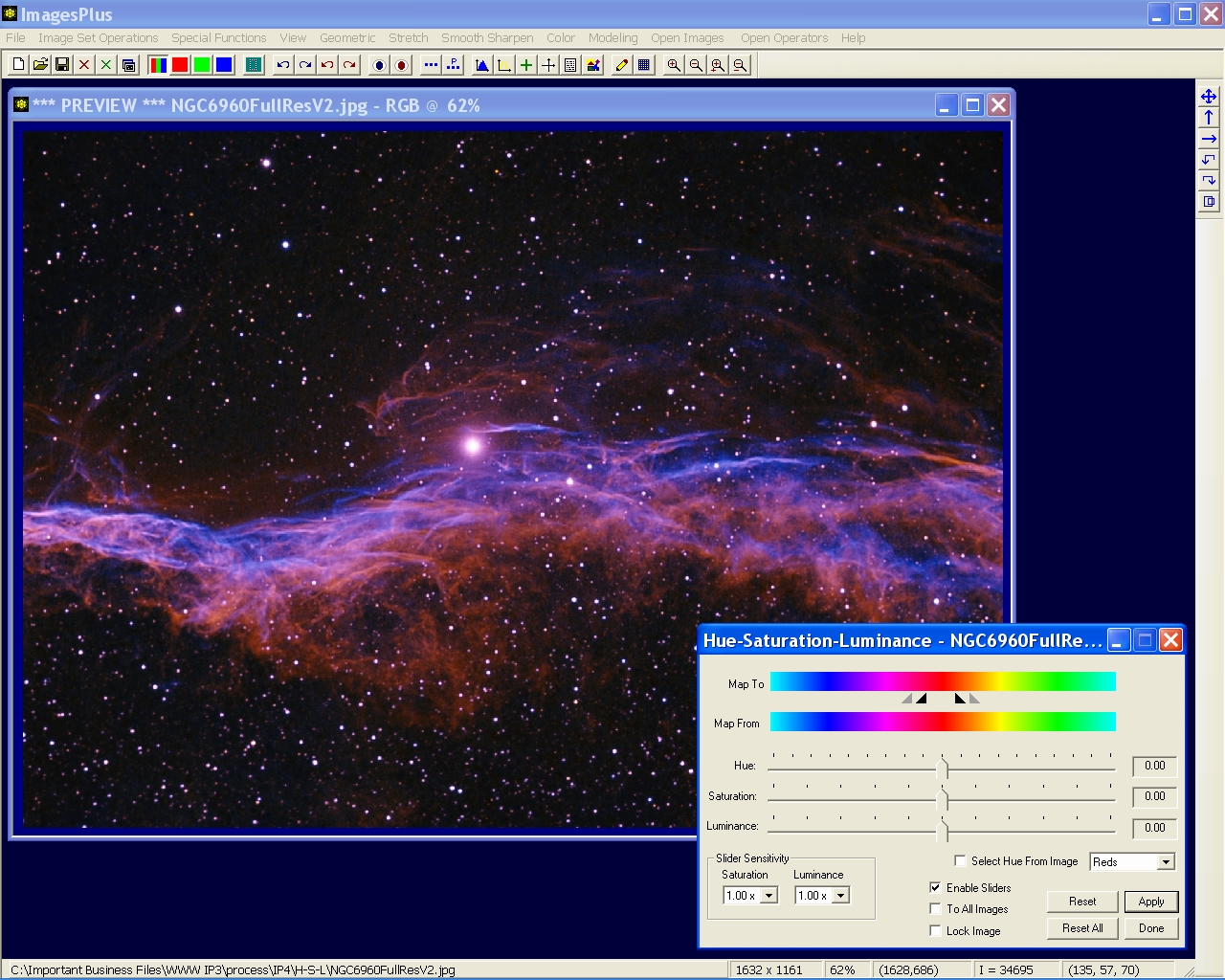 Step 3 - Shift Salmon to Red


Move the Hue slider to the left to shift salmon towards red. Move the Saturation slider to the right to increase saturation. The hue shift and saturation increase only affect the hue range inside the hue and feather triangles.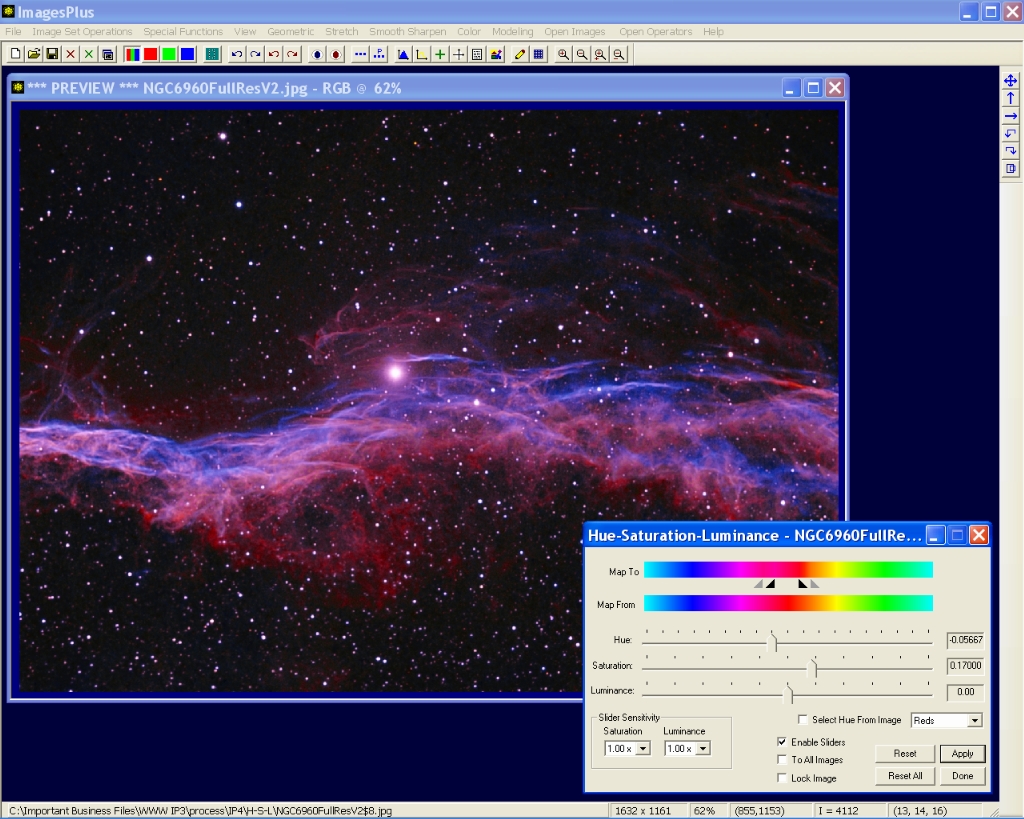 Step 4 - Adjust the Left Hue Feather Range


The left hue feather triangle is moved into the blue range to increase blue and blend the hue shift. Note the increase in blue and smooth red.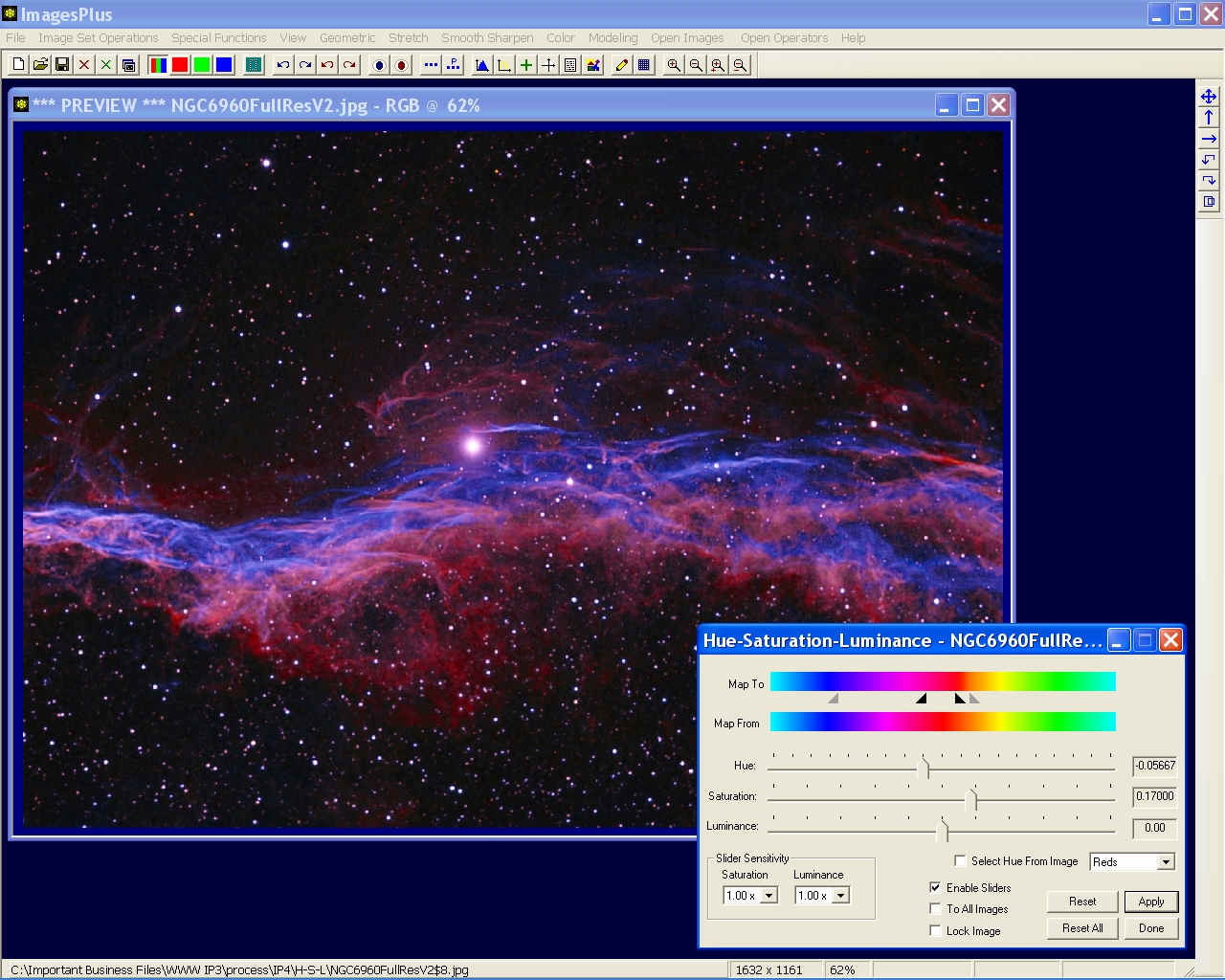 Step 5 - Adjust the Right Hue Feather Range and Hue Range


Move the right feather hue trianle towards the right to include more yellow green. Left-click between the right two triangles and move them as a group towards the left to increase the hue range. Left-click between the two black range triangles and move all four traingles as a group to adjust the final hue shift.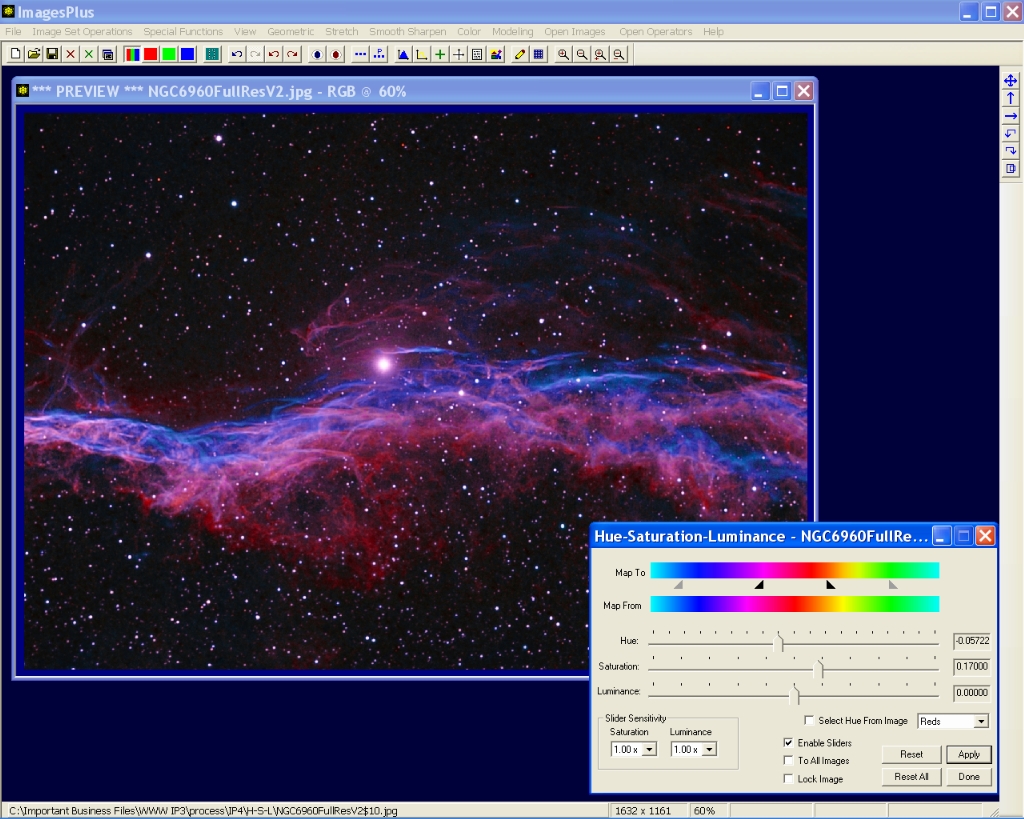 Salmon Hue Shifted to Red


Salmon has been shifted to red but a magenta hue in the bright areas and brightest star remains from the initial image. The Selective HSL Color Balance tool can be used to change bright magenta into red.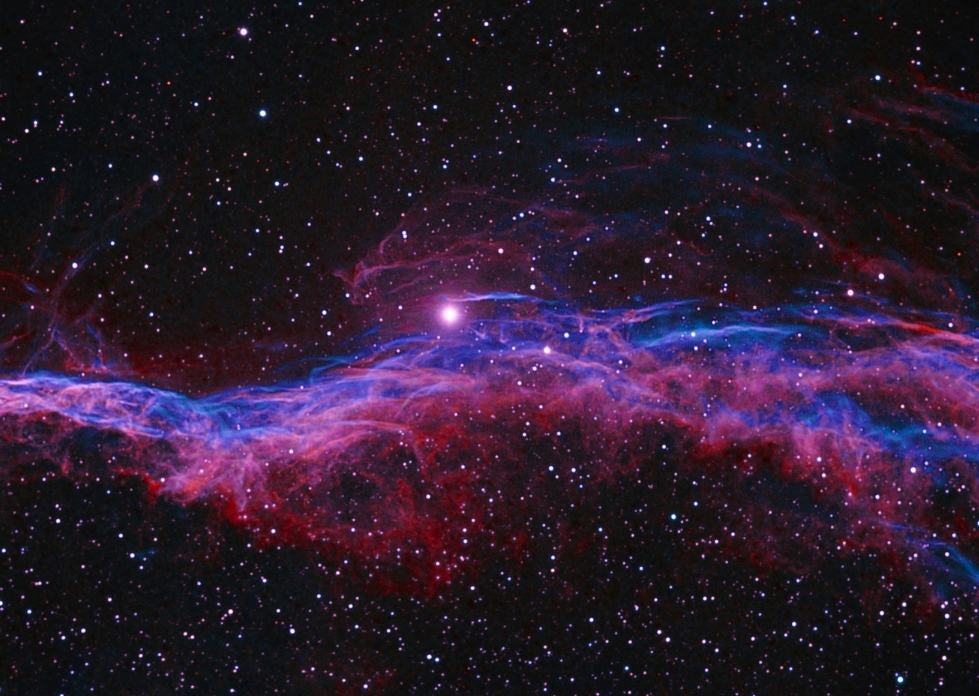 Copyright &copy 2011 MLUnsold Digital Imaging. All Rights Reserved.